[ad_1]

LONDON, Feb. 12, 2023 /PRNewswire/ — The globally acclaimed provider of innovative recruiting solutions, Elevatus, is proud to announce its strategic partnership with the award-winning, vendor intelligence platform, Rectec. This partnership will bring together the unparalleled strengths and expertise of both companies to expand their global reach through the world's most innovative recruiting solutions.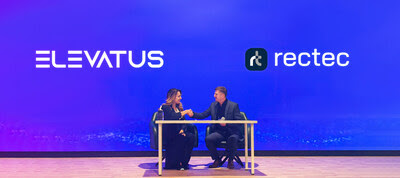 The partnership will place Elevatus at the forefront of the global market, while generating a stronger awareness for Rectec in markets they are keen on venturing into like the Kingdom of Saudi Arabia. This collaboration will also provide significant benefits to Rectec's clients, who will be able to seamlessly attract, retain, and engage top talent at scale through the futuristic recruitment software, Elevatus.
Rectec empowers recruitment and talent acquisition leaders worldwide to make smarter decisions about the tech they use. They've developed a powerful comparison service, aimed at identifying the best recruitment and talent technologies for their clients quickly – and for free. Rectec also provides a complementary technology marketplace and a wide range of technology services too. Through this partnership, Rectec will add Elevatus to their growing portfolio of ATS solutions to maximize its exposure to Rectec clients around the world.
"This partnership is a significant step for Rectec as we expand our reach and bring our services to new markets," said Rob Green, Founder and CEO of Rectec. "We are excited to bring our expertise to the table and work with Elevatus, who will soon be included in our growing portfolio of ATS solutions in Rectec Compare. This will provide an incredible new option for Rectec clients around the world, who utilize our powerful ATS comparison engine."
Elevatus is renowned for its award-winning recruitment software, which has been designed to streamline the recruitment process and provide organizations with the solutions they need to hire at scale and digitize their recruitment process. Rectec, with its global reach and extensive experience in technology, will leverage Elevatus's recruitment software to help its clients recruit winning workforces and hire at scale. The combination of Elevatus's technology and Rectec's global reach will enable both companies to provide a comprehensive and integrated recruitment solution to clients, helping them to achieve all their hiring goals. Elevatus has received numerous accolades and globally renowned awards for its work in streamlining the full hiring cycle and revolutionizing the world of recruitment. The company has also developed powerful partnerships and integrations with industry leaders such as Oracle, SAP, LinkedIn, Slack, Zoom, Google Meet, Glassdoor, and DocuSign.
"With Rectec as our trusted partner, Elevatus is on a path to unstoppable success in the global recruitment market. Their expertise and market knowledge will play a crucial role in supporting our expansion plan. Our collaboration is a testament to the strength of our global expansion strategy and we are proud to be aligned with a company that shares our commitment to delivering the best to our clients. Our dedication to excellence is what sets us apart and makes Elevatus the go-to choice for companies looking for top-notch recruiting solutions." said Yara Burgan, Founder and CEO of Elevatus.
Photo – https://mma.prnewswire.com/media/2000630/Elevatus_Rectec.jpg
[ad_2]

Source link